See The Funny Side Of Life And Of School Essay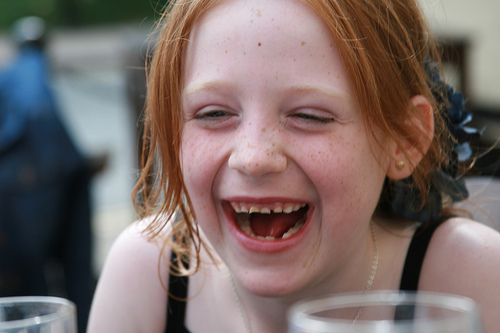 Photo by apdk
Wow, life can get heavy sometimes.
I just looked at the nine recent blog posts that show up at the bottom of my site, and collectively they made me want to crawl into bed and pull the covers over my head. Humans can hibernate for the winter too, can't we? Here's a sample of what I've written about recently: The bullying and suicides of LGBT teens. How politics have mucked up the Christian faith. The number of people in the world who are struggling to make basic ends meet, and how overwhelming and hopeless we can feel when we try to make a difference. So many heavy topics. Ugh.
The universe has a sense of humor
Thankfully, life can be funny, ironic and surprising, too. Like when we want to type "Wow," as in "Wow, life can get heavy" and somehow our fingers seek out the keys "Sos" instead. That's exactly what happened when I sat down to write this post. I typed my first word, looked at the computer screen and it read "Sos." It was as if my fingers were going AWOL, giving up on my oppressive mind and branching out on their own, in search of a rescue, a better life.
Earlier this morning I had another funny experience. I was at the middle school for a Student of the Month recognition breakfast. The room was (I can only assume) filled with the best and the brightest—you know, the kids who have it together—and their parents. Clearly we must have it together too, right? But after the breakfast, a group of us became hopelessly lost trying to find out way out of the school building. How funny is that? Did we hand over all of our competence to our kids at birth, or what? A friend told me it reminded him of a Far Side cartoon—the one with a kid trying to get into the "school for the gifted" by pushing on a door clearly labeled "pull."
And that, of course, is what makes Far Side cartoons and comedians and late night television so funny: The humor is rooted in truth. Yes, some people definitely have a comedic gift, but life freely presents all of the material we need for laughter. We don't even have to go looking for it—the funny stuff has a way of popping up unannounced, when we least expect it. We just have to chose to see it as funny and be ready to laugh.
You usually have a choice: laugh or cringe
When you think about it, nearly every funny incident has the potential to be annoying, embarrassing, or both. Like being part of a group of "dumb parents" wandering around lost in the middle school. Or like this past Friday, when two of our friends made a three-hour trip to our house for our annual chili cook-off—a day early. They were certainly a bit embarrassed and annoyed with themselves, but we ended up having a great evening together, just the four of us, and the situation provided plenty of laughs.
Life is heavy. I hate to think how oppressive it would feel if we weren't free to laugh—especially at ourselves and with those we love most.
I'm still chuckling about the way my youngest daughter and a group of her friends caught me off-guard in church on Sunday. It was after a somewhat somber teaching on God's love being a consuming fire (which actually left me feeling more positive about that concept than I ever have before, but still—a heavy topic). We had just taken communion and were singing in earnest when the kids traipsed back into the sanctuary, fresh out of Sunday school, their sweet, cherubic faces adorned with mustaches, sideburns, beards and wild eyebrows they had fashioned from pipe cleaners. They innocently filed up to the front row, where they like to sit all together, and began singing their hearts out:
Precious Jesus, I am ready, to surrender every care; Take my hand now, lead me closer, Lord I need to meet you there.
Maybe my sense of humor is a bit off-kilter, but I think that's some pretty hilarious stuff. I was more than ready to surrender every care, too. And you know what? I think that's at least part of what it means to set down life's burdens—letting loose, laughing, and simply opening yourself up to the funny side of life.
(Alright, now you have to share the funny things life has served you lately. :)

Similar Posts:
Tagged as: annoying, blogging, choices, church, cringe, funny, heavy, humor, irony, laughter, outlook, parenting, perspective, sad, truth
On a sunny afternoon just over 12 years ago, I met the author Louise Rennison. I was about 14, and after entering a competition through her website (still a relatively unusual thing, then, for an author to have a website, and it made her seem the height of cool), I'd won a fridge magnet and some information about an upcoming book tour.
I'd learned, with delight that sent a shiver right through my arteries, that she was coming to my local Waterstones. It's no exaggeration to say that Georgia Nicolson, the main character in Louise Rennison's bestselling Confessions of Georgia Nicolson series of young adult comic diary novels, was my hero.
Thenews of Rennison's death at 63 is incredibly sad not just for me, but for a whole generation of women and girls who came of age with her books. 
I nervously tramped up the road with my copy of Angus, Thongs and Full-Frontal Snogging, the first book in the series, its pages yellowing from the many, many times I'd read them under the duvet with a torch. When I got to the signing I was struck dumb with admiration, struggling to believe that the writer who had made me laugh until tears poured down my face was in front of me. In the end, all I could manage to say as I handed over the book was, "Please could you sign this?" The moment she did, I blushed a deep red, turned tail and ran all the way home.